Create a SMS competition in NO time.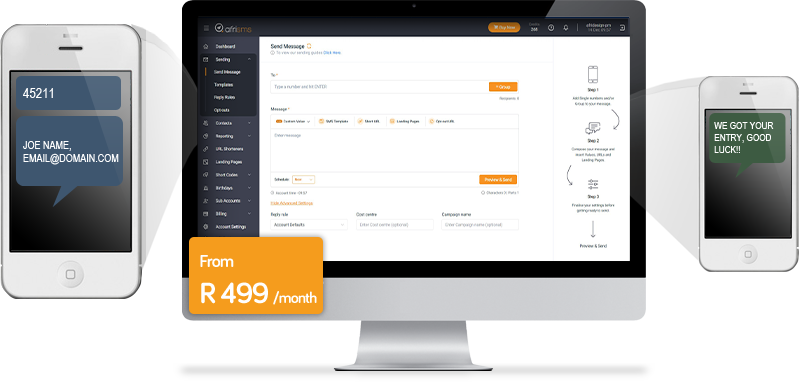 Setting up a text-based SMS Competition has never been easier or quicker. Set up your own SMS competition in no time. Our SMS competitions console allows you to create text-based SMS competitions. With competitive rates, you will find our system hard to beat.
AfriSMS is a Full SMS Campaign Management System - creation, management, and analysis.
Create & setup SMS Competitions through an online interface. Manage the entire process yourself, track and monitor entries during, and after your competition. Create trigger words for your SMS Competitions that people will SMS to enter your competition.
Setting up a text-based SMS Competition has never been easier or quicker.
Create a new SMS Competition. Choose a price band and then set the start date and end date of your SMS Competition.

Add unique SMS keywords that people will SMS to enter your SMS Competition. From 1 to Unlimited* SMS Keywords.

You will be required to submit basic SMS Competition information including Prizes, and the name of the Company promoted.

You have the option to setup a default reply SMS for your SMS Competition. Individual keyword replies can also be added.

With Grosms, you are able to choose your SMS Keyword and your Competition dates. Once your choices have been made, you will be assigned a shortcode number to use during that time period.

SMS Competitions can be scheduled to run at future dates, meaning that you can setup campaigns beforehand & the system will automatically start them on the scheduled date.

Access your competition statistics & history at any stage. You will need to pay your monthly subscription fees in order to have access to this information.

You will be able to download the entries from each campaign as a CSV file, allowing you to view & utilise the information offline, using Excel.

Create an unlimited number of SMS Competitions on the Standard Rated Shared Shortcode.

Create trigger words for your SMS Competitions that people will SMS to enter your competition.

Setup, Monitor & Track entries, real time through an online interface.

Grosms is a Cloud Application that allows you to easily setup & manage promotional SMS Competitions. Sign Up is FREE!

Basic SMS Competition Platform (AfriSMS)
A Shared Shortcode simply means that multiple users can make use of the same Shortcode number.
How is this possible?
Well, what makes your SMS Competition unique is your keyword list. So even though you are all advertising the same "Shortcode Number", if anyone sends a SMS to that number using one of your unique keywords, while your competition is running, that SMS entry will be allocated to your SMS Competition, and no-one else's.
Basic SMS Competition Platform (AfriSMS) + Dedicated Shortcode/s
A Dedicated Shortcode number can be registered for your exclusive use on the AfriSMS.
Why would you want a Dedicated Shortcode instead of a Shared Shortcode?
With a Dedicated Shortcode you can have any keyword you like without worrying about someone else snapping it up. A Dedicated Shortcode can be particularly useful if you have 100's or even 1000's of unique keywords, i.e. Barcodes. You can also setup a "Catch all" SMS Competition, which means that you don't have to specify a unique keyword for people to use. Anything sent to your unique Shortcode will automatically be allocated to your SMS Competition. There are additional monthly fees associated with the dedicated shortcode.
inc vat
per Keyword valid for 12 Months

Shortcode Rental
Per Calendar Month
inc vat
Once Off Shortcode Registration

Shortcode Rental
Per Calendar Month
(Please note you will have to subsidise your reply SMS should you need one.)

FREQUENTLY ASKED QUESTIONS
Answers To Questions You May Have About SMS Competitions
Who should be looking at AfriSMS ?
Companies wanting to use a SMS Competitions platform to promote an event, product or service they offer. This is a great cost effective platform for Ad Agencies that need to run SMS Competitions on behalf of their clients. It is also really quick & easy to setup.
What SMS Price bands do you have available ?
Shared Shortcode: Standard Rated
Other price bands are available on the dedicated option.
Please note: Promotional SMS Competitions may only make use of the R1.00 or R1.50 price bands due to changes brought about by the Consumer Protection Act and the National Lotteries Act.
Do we get paid out for our competition ?
On the shared short code there are no SMS revenue pay outs. However on the dedicated short code there is a SMS revenue pay out, please contact us for more details as to the profit sharing split.

Do I need to install any software ?
No, it is a web based system, which means all the software is on our system. You do however need an Internet connection. You will be provided with login details for your account and then all you need to do is login!

Should I wish to cancel my subscription for the SMS Competitions Service, how would I do that ?
Our system is run on a month to month basis ie. we bill monthly until we receive a cancellation notice from you, the client. We work on a written calendar month's notice period. This means that should you no longer wish to use our system, you need to send us a cancellation email, a month before you want the subscription to stop.
Please note that even if you don't have a SMS Competition running on the system, we will keep billing you the monthly subscription fee until you cancel with us in writing. We don't automatically assume that because your competition has ended, or you haven't set one up, that you no longer wish to use or system.
Can I try before I commit ?
Yes, you most certainly can. Sign Up is FREE. You only start paying once you create your first SMS Competition.

Call, Chat or Send Us Your Questions. We are Ready to Assist.